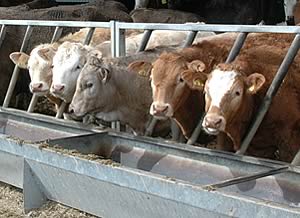 The last seven years have not been kind to the income statement and balance sheet of the cattle feeder in Canada. With that has come a harsh reality for many small to mid €"sized feeders that were dealing at schedule one banks. Many on the schedule ones have decided to focus on the larger feeders due to better reporting and less clients to deal with. As a result Companies like Farm Credit Canada, Viterra and Feeder Associations Alberta have had to fill the cattle financing void.
Historically Feeder Associations Alberta just financed the cattle and not the equity which was not the case for FCC and Viterra. In the last two weeks Feeder Associations Alberta in cooperation with the Government of Alberta has set out to change that by expanding it's loan limits. This will bring more competition to the financing space which is always good for the producer.
Reg Schmidt is the General Manager of Feeder Associations Alberta and he spoke to me about the program and why producers will be very interested in some of the changes that have been announced.
If you cannot see the embedded video below, click here