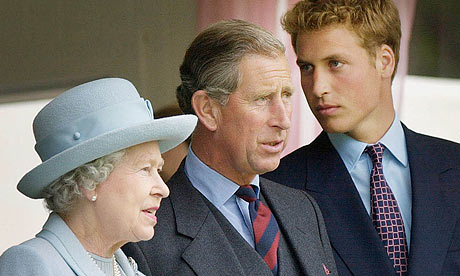 The Succession Saga – Part Two
By Dick Haney
The Prince Charles Syndrome is an affliction that affects not only Royal Families, but potentially your family business as well.
The House of Windsor (The ruling English Monarchy) is arguably one of the most successful family businesses on the planet. Although the House of Windsor has been known as such only since March of 1917, it has its roots in the thousand year old House of Wettin. Now, that's longevity. But, as we all know, bloodlines and time of birth totally control lineage and therefore the right to the throne. In the monarchy there is no such thing as retirement. Only two events cause regime change, those being death or abdication. To this point at least Queen Elizabeth has expressed no public desire to abdicate. This is unlike the pragmatic Dutch where both Queen Willheminia and Julianna have abdicated in order to allow a younger royal to ascend the throne; a move that has been viewed very positively by the majority of the people of the Netherlands.
The Fact Set
Genetics as well as modern health science are playing a major role in how modern monarchies will have to deal with the ascension issue. People are living longer and in a healthier state. The longest reign of a British monarch was Queen Victoria at 63 years. She was 83 when she passed away. Her son Edward was 62 when he ascended the throne. He had a 12 year reign. Queen Elizabeth II has been on the throne for 58 years. If she retains the throne till September of 2015 she will become the longest reigning monarch in world history. She is presently 84 years old. Her mother (the Queen Mom) was 101 years old when she passed away in 2002. If Elizabeth II lives as long as her mother and retains the throne she will have reigned for 75 years. Prince Charles is presently 62 years old. If his mother (Elizabeth II) lives as long as his grandmother, he will be 79 years old before ascending to the throne. How would you like to be 79 and heading off to a brand new job that you had been training for since you were barely old enough to walk?
The Prince Charles Syndrome
So, here is Prince Charles, who has waited patiently for his time, his opportunity, his vision of the monarchy to be realized. And still he waits. It goes without saying that he is well off financially. The worldly day to day problems that most of us have to deal with are not problems that he encounters. He must deal with the diseases of impatience, frustration, relevancy and purposelessness. Anyone of these conditions by themselves are serious, but taken as a group they become synergistic and quite possibly terminal. And to add to Prince Charles' problems, he now has competition from his sons William and Harry who are far more popular with the British public than he is. In a recent poll a great number of Brits would prefer William over Charles to be the next to ascend the throne. Charles is quite frankly condemned to be a footnote in the history books, and all because his Mom isn't willing to pass on the reins to the family business and give him the time as head of state that he requires to make his mark and achieve his goals. I'm sure that there has been a time or two when Charles sincerely wishes that he had not been born into a family of such privilege, that he had instead been in an environment that allowed him to self actualize and achieve some of his own aspirations.
I submit that the inability of the British Monarchy to renew itself in the form of timely leadership change may ultimately be the cause of this venerable institution's self immolation. Individual personal position and well being is taking precedent over what is best for the House of Windsor as a whole and may ultimately cause its downfall. I firmly believe that the future of the British Monarchy lies in three questions:
Will Queen Elizabeth effect an exit strategy that allows her a dignified retreat or will she instead stay on the throne fighting tenaciously for every inch of ground to retain power and position?
Depending on the answer to the above question will Charles ascend the throne at an age that makes him totally irrelevant to the masses at large? There are those that would argue that he is already at that age and he does not have the support of the masses.
Depending on the answer to the above two questions, will it be possible for Prince William to revitalize the monarchy and make it meaningful to the British tax payer such that they will continue to foot the bill for this Family Business?
I submit that Prince Charles is caught between a rock and a hard place, a place that was not of his making. Charles sits and waits and waits and waits and…waits some more and meanwhile the world passes him by, his popularity wanes and his ability to do the job diminishes. He is condemned to being that minuscule irrelevant footnote in history. This is truly a personal tragedy, and not a situation to be wished on anyone.
The Junior Partner in the Family Business
If anyone reading this article can identify with Prince Charles' predicament, then take it as a warning sign. If you are a part of a family business and it looks like the senior generation has no exit strategy or succession plan, then this is a danger signal. If you don't feel that you will be allowed the opportunity to put your vision and goals and objectives into practice as you are supposed to wait and wait and€¦€¦€¦€¦€¦€¦..wait, exhibiting the patience of Jobe, then it's time for the Strategic Audit. I am a firm believer that everyone must have the opportunity to self actualize. If you are in an environment that does not or will not allow this to happen then start assessing your alternatives. This must happen and the earlier the better as the skill set you possess today is the outdated Neanderthal skill set that you will possess tomorrow, and tomorrow comes all too early and fast.
To the "King or Queen" in your family business, I submit that the principal responsibility that you have is to train the young prince or princess such that he /she is ready to ascend to your business' throne. If you truly want your kingdom to survive then it is a mandatory piece of the business plan. If you truly want to be king or queen for life then it is your responsibility to make that clear to the young prince or princess such that the/she can make a decision as to whether or not he/she wish to remain in the Kingdom. To do otherwise is to condemn your offspring to irrelevancy, to being that footnote, to having a wasted life that harbors many hard feelings that will not only affect the Kingdom but the family.
There are far too many similarities between training the next generation in family business to training horses. For example it is possible to take the finest thoroughbred horse in the land and turn him into a plow horse. Take the thoroughbred's self esteem, self confidence, motivation, fun and desire out of his life and you will probably have a loser at the track, through no fault of the horse, but the fault of the trainer. Similarly, you can take a junior partner and break his spirit and you will have a loser in the business, through no fault of the junior partner, but the fault of the senior generation. Once again, it lies with the senior generation to show the leadership and vision that is required to pull the family and the business through the succession quick sand. This is the basic building block that must be in place, and although there are many others that have to be in place as well this building block is on level one and supplies the firm foundation upon which to build the house or the family business. It was as true in the American Civil War as it is true in Family Business today when Abraham Lincoln uttered those famous words €œA house divided against itself cannot stand.€
There is work to be done by all in the family to make sure that your family doesn't end up like the House of Windsor. The best chance of this not happening is to open the dialogue today, the honest dialogue that will lead to good agreements for the family business and more importantly good relations in the family.